Load a Mower on ANY Box Truck with the MR-750 Manual Loading Ramp... Easy, Bolt-On Installation! We Ship Anywhere! 866-923-0027
Get your FREE quote right away for the EASY to use, EASY to install MR-750 loading ramp!
Once you've placed your order, we can calculate shipping costs according to weight and region where your ramps are being shipped.  If you have a forklift and/or loading dock, rates are discounted so be sure to let us know!

Fill out the form to get a quote and detailed instructions how to select the proper size ramps for your box truck!

I just wanted to give my review for the MR-750 ramps! My husband has a bad back and was using really heavy ramps that he had to pull off the truck & move them around. That would make his  back pain worse...it would take more time for him to get his machines on & off the truck. So, we decided to purchase the MR-750 ramps. My husband LOVES the ramps because they are easy to bring up or down. They are perfect for his big riding lawnmower & I loved the super easy way of ordering them & picking them up.  Jamie was super helpful & sweet. My husband's whole family works in gardening/landscaping so we will definitely be recommending them . Thank you very much Super Lawn Trucks! You guys are GREAT!!!
I absolutely love my MR-750 ramps. My crew found them easy to use, convenient, and meets our daily needs. They have exceeded our expectations and we are grateful we found your company. As we increase our fleet we will purchase again in the near future. Thanks a million!
I received the ramps and they work great!
Want something a little smaller and also very affordable? Check out the MR-550!
The MR-750 and MR-550 Loading Ramps Can Be Installed on New or Used Box Trucks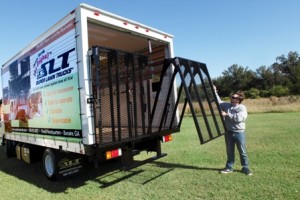 Fast, Safe, and Easy
The MR-750 loading ramp for box trucks makes loading lawn equipment, tools or cargo fast, safe and easy.
One Person Operation
Spring-loaded, folding design allows anyone to quickly raise and lower the ramp.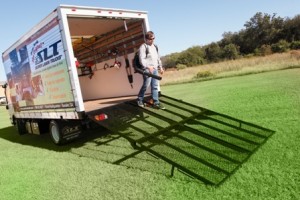 Strong and Wide
Install 2 MR-750 ramps side-by-side for 1500 lb. weight rating and 5 ft to 8 ft wide ramp platform.
Check out how easy it is to install the MR-750 Manual Loading Ramp in as little as 45 minutes!
Lawn business owners are discovering a new way to gain an advantage providing mowing services.
Box trucks offer 3 to 10 times the lawn equipment storage capacity when compared to pick up trucks. The challenge for box truck owners is loading commercial zero turn mowers, walk behind mowers and stand on mowers is difficult.  Pull out ramps were too narrow, too heavy, too steep or too difficult to let out for 10 to 20 stops per day. But loading lawn mowers into box trucks is simple with the MR-750 loading ramps.  You've found the most affordable bolt-on loading ramp for loading lawn mowers into box trucks.
Rob Hambleton talks about how fast and easy it was to purchase and install the MR-750 Manual Loading Ramp. Watch below!

"Hello!  My name is Rob Hambleton and I wanted to send a testimonial video to Tony Bass and his team at Super Lawn Trucks. I just want to say thank you for the MR-750 loading ramps.  We have them on the truck. We ordered them, got them in place and set up really quickly. We're really pleased at how fast and efficient everything went and how well they went on. So, we're really excited to use them this year. They're going to be a great asset to our team having them on one of our Isuzu trucks. And we look forward doing more work with Super Lawn Trucks in the future. They got a good thing going. So, thank you very much!  I'm very excited!"
Lawn maintenance contractors discover an often over-looked method to double profits without adding more customers.  Get the details here!