Top 5 Commonly Asked Questions:

Seeing a product for the first time can be a little intimidating and tons of questions fill your head. Here are the top 5 commonly asked questions we get about the MR-750 Manual Loading Ramp: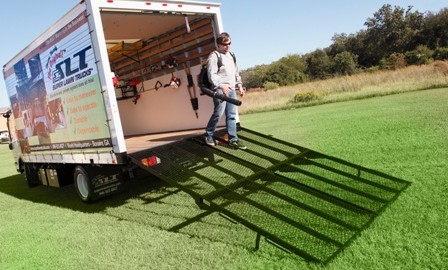 Q: What maintenance is required for the MR-750 Ramp?
A: The MR-750 is designed to require minimum maintenance. Inspect
      bolts, hinges, and welds periodically. Tighten bolts or repair as needed.
Q: What materials are used in the construction of the MR-750 Ramp?
A: The ramps are all-steel construction and powder coated black to deter corrosion.
Q: What is the warranty on the MR-750 Ramp?
A: The ramps have a 90 day buy back guarantee.
Q: What is the angle of inclination going into the rear of the truck using your MR-750 Ramps?
A: The exact angle of inclination will vary according to the distance from floor to the ground. We recommend a maximum floor height of 40 inches from the ground. Expect a ramp angle from 18-21 degrees with the floor height being between 36-40 inches.
Q: Can the ramp be mounted in the middle of the truck?
A: The ramps have to be on either side of the truck. Mounting it in the middle requires customization not provided by Super Lawn Trucks. Order a left side or right side model.
Still have more questions?
Can't find what you're looking for?
Give us a call! 866-923-0027
Our staff is more than happy to help you out!